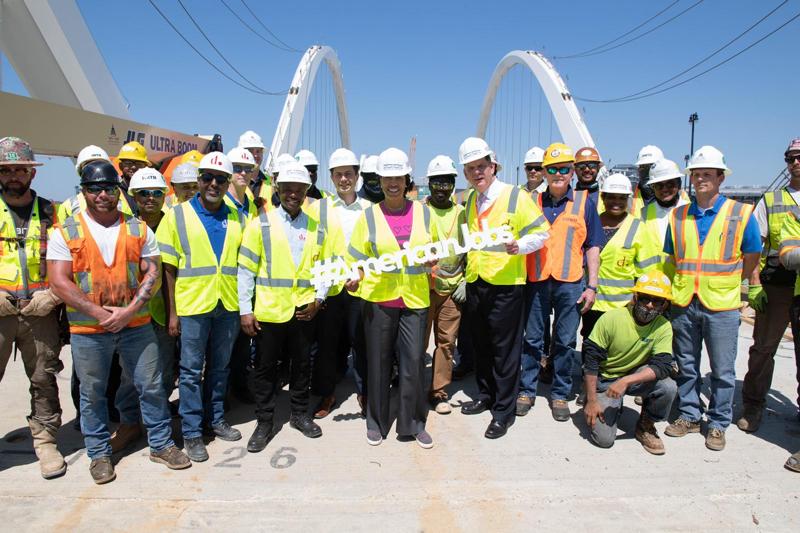 ABOUT
On Thursday, March 24th, Mayor Muriel Bowser announced the DC Build Back Better Infrastructure Task Force, which will advise on priority projects to be funded through President Biden's Bipartisan Infrastructure Law. The $1.2 trillion, five-year infrastructure bill was signed into law on November 15, 2021 and seeks to rebuild American competitiveness through infrastructure by reauthorizing and increasing funding for existing and new programs (over half of the new funding is transportation focused.) The District is expected to receive more than $3 billion over the next five years and will be eligible to apply for competitive grants.
The DC Build Back Better Infrastructure Task Force will be responsible for making recommendations on how to maximize this once-in-a-generation funding opportunity to bolster DC's competitiveness and resiliency in the region, nationally and globally. The Task Force will also make recommendations on how to prioritize projects that can be funded through the Bipartisan Infrastructure Law, including formula and competitive grants and solicit feedback from the public and external stakeholders.
SUBCOMMITTEES
The Task Force is made up of members from District agencies and external partners chosen for their expertise in each one of the 5 subcommittees:
Transportation Innovation
Technology Innovation
Workforce Capacity Building
Environment and Resilience
Administration, Compliance and Procurement
An executive committee will review initial committee findings and guide the overall process.
SETTING PRIORITIES: Tranformational, Equitable, Sustainable
When thinking about which projects should be prioritized, the Task Force will consider recommendations that will improve economic opportunities for underserved communities, create greater equity amongst DC neighborhoods and residents, withstand future shocks and stressors and accommodate growth throughout the District. Project recommendations must meet three core principles:
Transformational – big, creative ideas that do away with historical barriers and ensure systems and resources are combined to build back better
Equitable – cement racial equity into all stages of the projects
Sustainable – address the climate crisis and build resiliency while also being able to continue when BIL funding is no longer available
---
SHARE YOUR THOUGHTS
While the DC Build Back Better Infrastructure Task Force meets and develops recommendations, we want to hear from residents across the District who want to have their say in how we prioritize funding projects. Please use the following form to share your thoughts with Task Force members. Remember to think big–this historic investment will be used to change the lives of District residents?
During the event, Mayor Bowser also highlighted how her Fiscal Year 2023 Fair Shot Budget invests in the District's infrastructure, including $200 million for longer-term streetscape projects to redesign our most dangerous roads and intersections, $143 million to DC Water and the DC Department of Energy and Environment to support efforts to remove all lead pipes from DC, and $100 million to enable ubiquitous connectivity across the District.
To learn more about the Mayor's FY23 budget highlights, please visit: https://mayor.dc.gov/release/mayor-bowser-presents-fiscal-year-2023-budget-proposal
Structure