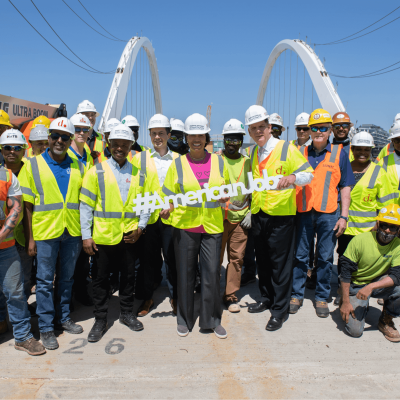 Bipartisan Infrastructure Law Partner Agencies
Bipartisan Infrastructure Law Partner Agencies
BIL funding has been allocated to the following agencies in order to facilitate infrastructure projects throughout the District. To explore the work of each agency in detail, please click on the corresponding link below:
Bipartisan Infrastructure Law
Bipartisan Infrastructure Law
President Biden signed the Bipartisan Infrastructure Law in November 2021 to revamp our nation's infrastructure by rebuilding roads and bridges, replacing lead pipes to ensure access to clean water, extending high-speed internet to every American household, delivering affordable and eco-friendly energy to businesses and homes, and generating well-paying jobs. Since its enactment, Mayor Muriel Bowser is leading the District's efforts to take advantage of the funding opportunities for District residents.
$3,416,907,000
Projected Formula allocations to the District over 5 years

On March 24, 2022, Mayor Bowser convened the DC Build Back Better Infrastructure Task Force to advise on priority projects to be funded through President Biden's Bipartisan Infrastructure Law.
BIL Home Boxes
As of November 2023, total announced BIL funding for the District: $2 Billion
We are eager to hear your thoughts on how to allocate this unprecedented amount of funding. This is a rare opportunity to invest in the city's infrastructure and we value your input on how to make the most of it.
Competitive Grant Tracker - Block C
Competitive Grant Tracker
48
Grants Submitted
by District agencies, totalling $1.4B in requested funding.
11
Grants Awarded
to District agencies, with 12 and over $400M in requested funding still pending a decision.
$135M
in Funding Received
for the S. Capitol St. Trail and Circulator and OSSE electric buses, etc.
Four additional grant applications currently in development